An Ode to Social Media in Times of Crisis
How do you remain active as a study association during the stay-at-home-times? Two words: Social Media. Explore how de L.K.V., a student-led association, transforms their activities from physical to digital.
During this time nobody really knows what they are doing. This whole situation is very new to everyone, but does come with its unique struggles. For us, as a board members of de L.K.V. we felt an immediate stress. How are we going to run an association from such a distance?
The L.K.V. relies heavily on social contact; excursions, travels, borrels etc. How do you stay close to your members and organize activities without this social contact? Two words: social media. Social media, like Instagram, Facebook, Snapchat and even TikTok, are thriving in these stay-at-home times. Thus, for us as board members this was the perfect way to be able to stay in contact with our members. Primarily because social media is easy and comfortable, especially for the younger generations who know most of these apps by heart.
As a result, we decided to divide our full attention to our digital platforms. For instance, create Instagram stories with interactive quizzes, chat with our members, post updates and recommendations (Fig. 1). Just anything we would also like to see when we are endlessly scrolling through these platforms, but we quickly realized that was not exactly what we wanted. Within our association one of the goals is to actively let our members engage with all kinds of art forms, from popular culture to decorative arts, to activate new ideas and interpretations. However, social media is very passive; you sit, scroll, and double click, everything is designed for the least amount of effort. But that is not what we want our members to experience, as an association we want and need to activate.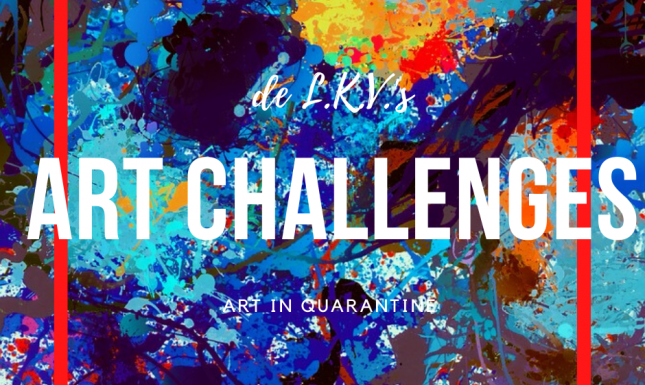 Therefore, we came up with a solution, something through which anyone can let their creativity and artistic expression roam free; art challenges (Fig. 2). We saw some of these challenges flying around with other social media users. We have a lot of artistic members, but this practical side is not really highlighted in our studies, so we thought 'Why don't we do it?'. It would be the perfect idea to activate people by challenging them in a creative way. As a result, we came up with some of the logistics and we decided to give people the artistic freedom to create any artwork in any medium. The only thing presented was a theme and some inspirational questions; we do have to activate those brains right?
The only problem we have run into is the generation gap that exists with the use of social media. Our study association also consists of many alumni members, but also many younger students, because for first years an association can give a lot of comfort and strength. But these groups require very different approaches, which is hard to balance in general but recently this has become even more difficult. How do you make sure every member receives the particular information? For us, this translates to the use of e-mail, we have chosen to send out more newsletters than usual to also stay in touch with those members who do not use social media (Fig. 3).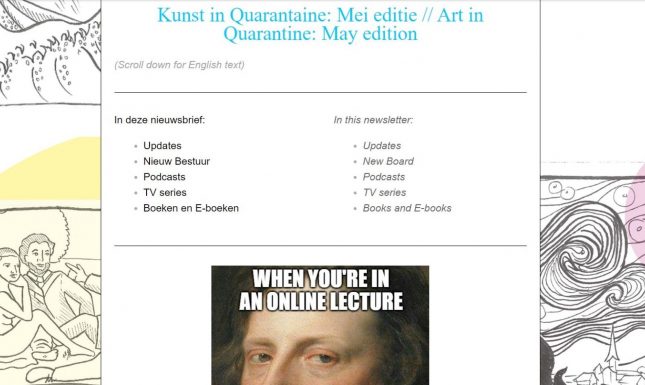 The challenges really work to stay close to our members, especially by posting the winners of the challenges, so others can see what they have created. We have gotten really great responses on our use of social media in these times and the way we assemble our newsletters. It seems many of our members love to see the effort but also the consistency of the association, it gives some distractions and also something to hold on to. We hope it inspires others to continue what they would always do, only in a different manner.
Useful links
Check out de L.K.V.'s website and social media platforms to see how we remain active as a study association in digital form:
Biography of the author
Liona Micajkov is a second year Arts, Media and Society student at Leiden University. She fulfils the position of Secretary of the 52nd board of de L.K.V., a study association for art related studies at Leiden University. Her primary interests are the use of digital media in society, popular culture and cultural philosophy.
Personal contact: l.t.micajkov@umail.leidenuniv.nl
De L.K.V. contact: secretaris@delkv.nl