Beelden aan Zee: Sculptures, dunes and my internship by the Scheveningen beach
Beelden aan Zee, founded in 1994 by Theo and Lida Scholten, is a very special place. The combination of location, atmosphere and a distinctive collection of modern sculpture makes this museum a unique experience for its visitors.
Hidden in the dunes, Beelden aan Zee is a stone's throw away from the beach of Scheveningen near The Hague. Full of air, light and sound of the sea waves, it is indeed a special place, where I was lucky to get an internship during the summer in 2021. Last semester a friend of mine, who attended a course of Dutch sculpture at Leiden University, passed the word around that her professor, one of the curators at Beelden aan Zee, was looking for interns to help during the preparation for an exhibition. Although I really knew nothing about Dutch sculpture I quickly got very excited about the opportunity of finding out more and getting some work experience at a real museum. These months at the sculpture museum turned out to be great fun and an incredible adventure!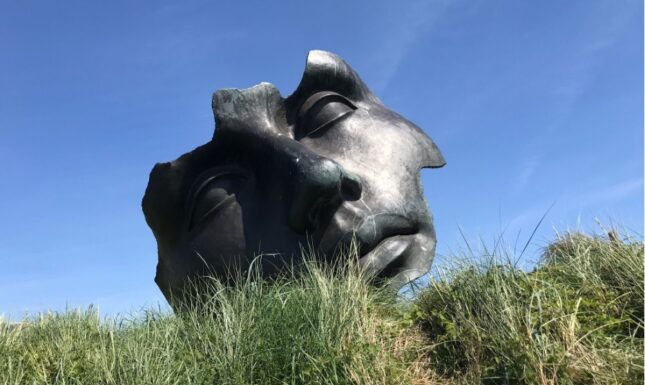 My tasks during the internship ranged from writing short texts about sculptures in the permanent collection of the museum to helping prepapre an exhibition on Igor Mitoraj, entitled Façade. Mitoraj is a Polish sculptor who spent most of his life in France and Italy and mainly worked with marble and bronze. Quite a few of his works are in the permanent collection of the museum. Some of the readers of this blog might be familiar with his sculpture (Fig. 1), located right on the top of the dunes in front of the Beelden aan Zee. This well-known mask of a calm and peaceful face is a vivid example of Mitoraj's art and fits very well into the overarching theme of the exhibition Façade. Monumental human figures are created in a classical and sensual manner. Referring to the theatrical nature and qualities of human faces and figures, the sculptures express Mitoraj's interest in themes of mythology and performance and create an exceptional experience of classical beauty embodied in the stillness of his works.
During the process of preparing Mitoraj's exhibition I had to write condition reports. This task involved a very thorough examination of each newly arrived sculpture and its documentation (Fig. 2). Being the first person to view these magnificent pieces and having a chance to examine them during the inspection for cracks or damaged patina was somewhat overwhelming. The feeling of standing alone with these sculptures in a huge spacious hall with immense windows with lots of light was also very special.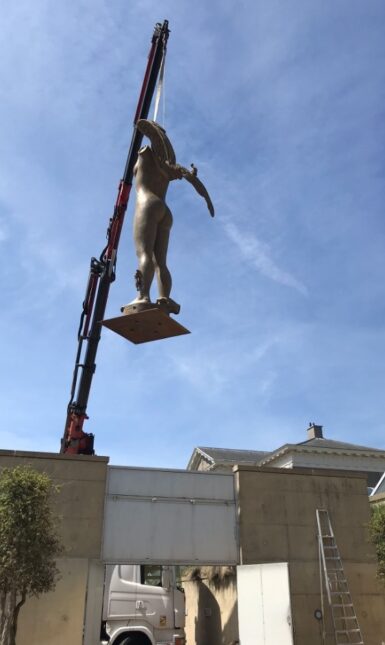 One of the highlights of my internship was the day when one of the sculptures was pulled out of the box by a crane and it was levitating in the air over the museum's terrace (figure 3). It almost felt like being in a different dimension! I also acquired new skills and experience. For example, I gained insight into how museum archives are digitalized and maintained. Even more importantly, I got a chance to become part of a friendly and professional environment motivated by the love of art and the desire to make visitors feel part of this artistic wonderland.
My experience at Beelden aan Zee completely changed my attitude towards sculpture in general. It made me greatly appreciate the dedication and hard work of museum curators and staff. Whether you are an art history student or an art lover, I highly recommend visiting Beelden aan Zee to enjoy its special atmosphere and discover the beauty of modern sculpture in an extraordinary environment.
Margarita Kilimnik is a 3rd year student in the Arts, Media and Society programme at Leiden University. She is interested in cultural memory, curating cultures and twentieth-century sculpture.