Exhibition or haunted house?!
In the course Curating Cultures students are asked to imagine how curators communicate specialist knowledge with a broader audience. Wakana Kaita shares her experience.
It was a windy and cloudy day in Amsterdam. For my essay, I was there to visit the site-specific exhibition, Poems for Earthlings, which takes place in the Oude Kerk. While I was waiting for my friends in front of the church, I was watching the visitors who were swallowed up into the dark exhibition space through the heavy door at the church entrance. The only thing I saw from the outside of the door was the complete darkness while I could feel the cold air gushing out of the exhibition space.
The exhibition was created by Argentinian contemporary artist Adrian Villar Rojas who is known for his large-scale, site-specific installations. Through his installations, Rojas' works explore the temporality of human culture.
After waiting for some time, my friends arrived, and we were able to enter the exhibition space together. "WOW, this is like the haunted house where I fought with zombies in a video game." This was my honest first impression (Fig. 3). But of course, I cannot write an academic essay based entirely on this initial impression, so I started to explore the exhibition and I was so excited to decode the tricks and messages that the mastermind, Rojas set (both intentionally and unintentionally).
One of the assignments given to us was to write a wall of text about the exhibition for the wider audience. I would like to share the first part of my assignment relating to the exhibition, with the intent to summarise it
"The earth has been experiencing a history of human evolution and its relationship with nature. The site-specific exhibition, Poems for Earthlings, shows us the memory of the earth through the universal languages of sounds and its relationship with architecture and treasures. The exhibition takes place in the oldest church in Amsterdam, the Oude Kerk, which has been playing an important role as the heart of the city since it was built in the 13th century. The artist, Adrian Villar Rojas, turned the historical and spiritual architecture inside of the Oude Kerk into a mystical space with eight hour-long sounds and human creations evoking lived-in feelings of our ancestors. The strange contrast between the materiality of architecture and objects, and immateriality of sounds offers us a truly unique experience. Through this exhibition you are able to witness the history of humanity through a third-person's perspective. "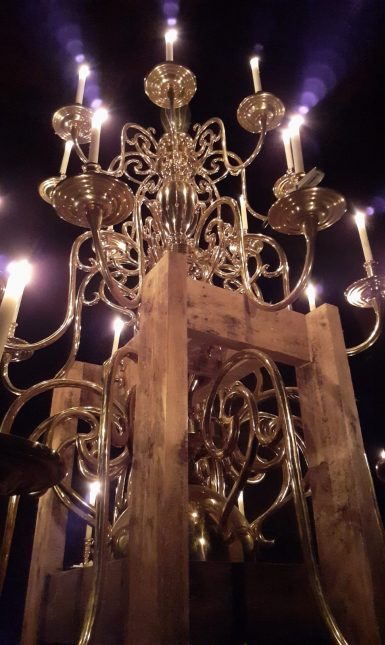 Unfortunately, the exhibition (the Oude Kerk) is temporarily closed because of the Corona virus outbreak. The information about Poems for Earthlings will be updated on the Oude Kerk webpage. I hope the day we can go out and visit the exhibition again comes. Until then please stay inside and take care of yourself.
Poems for Earthlings
Adrián Villar Rojas
21 November 2019 – 26 April 2020
Oudekerksplein 23, Amsterdam, Netherlands
Wakana Kaitani is a first-year student of Arts, Media and Society from Japan. She is interested in Art history and its relationship with European society and education. Contact: w.kaitani@umail.leidenuniv.nl