Internship in Corona-times: My experience at the Stedelijk Museum Amsterdam
In this blog I'd like to tell you about my internship at the Stedelijk Museum in Amsterdam for modern and contemporary art during Corona-times
My name is Madelène Donkerwolke, I am 21 years old and study Art History at the University of Leiden. In February I started an internship at the Stedelijk Museum in Amsterdam. The museum's collection of modern and contemporary art includes paintings, sculptures, furniture, video and many other forms of art. In this blogpost, I would like to share with you how my internship experience during COVID-19.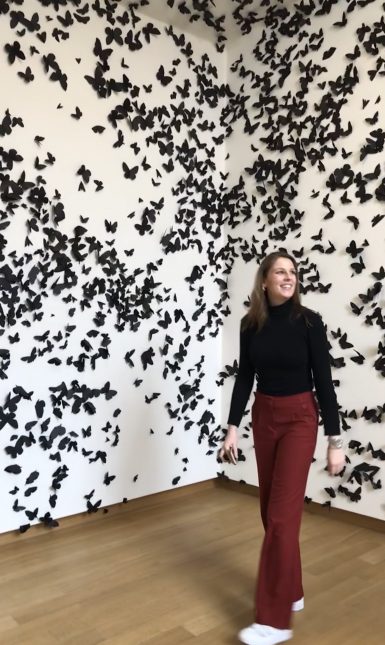 A few months ago, I noticed that quite a few of my friends were involved in internships. This made me curious and I started looking for vacancies. That same night, I saw an opportunity in the Development department of the Stedelijk Museum in Amsterdam. At first, I wasn't sure whether I should apply because it is not very easy to fit a 32-hour internship into a schedule packed with lectures (and my personal life!). But I applied because I really wanted to try. I handed in my application and only a few days later I received an email that I was invited for an interview.
I hardly ever like first days, mostly because I like to start right away and don't want to feel dependent. However, the warm welcome made me feel at ease. My mentor at the Stedelijk, Sarah, introduced me to my colleagues. I learned that the department of Development is divided into several accounts. During my internship, I will focus on corporate accounts. But little did I realize that the global pandemic COVID-19 would soon have a huge impact on my internship.

Before the Coronavirus emerged, my week at the museum was very busy. I started at 9AM and leave at 5:30 PM. Every Monday the whole team would meet at 11 to discuss the week ahead and what had to be done. Afterwards, Sarah and I would meet to discuss our week, my tasks and the progress of my internship. Every other Thursday there would be a general meeting where people would fill each other in on the latest news, projects and exhibitions happening at the Stedelijk. The rest of my week would be dedicated to tasks for Sarah, other colleagues, research, and some projects now and then.
Soon after March 13, the museum closed. The opening of the latest exhibition (Nam June Paik, The Future Is Now) was supposed to happen on that day but was the first event to be cancelled. Paik was an American artist, born in South Korea, who made mostly video art and installations. The TV-Buddha is probably his best-known artwork. Since the museum was closed, my internship changed completely. For a while, there was not much to do for me. Fortunately, I can help Sarah and other colleagues out by doing research and we still meet every Monday through Microsoft Teams. Moreover, the other colleagues have some tasks for me to do, so that keeps me busy.
My internship lasts until the 14th of August, so I hope to have plenty of time left for my research. In the meantime, my colleagues and the university keep my busy. Since June, I've been going to the office once a week, together with Sarah. Luckily, the Museum is active on social media (Instagram: @stedelijk), so that has been a great substitute! I'm am very excited for the next (and last) two months of my internship!
My name is Madelène Donkerwolke. I am 21 years old and a second-year art history student at Leiden University.