Lost and found minerals
The mineralogical collection being transferred from Science Center Delft to Naturalis Biodiversity Center in Leiden is not as culturally neutral as presented in the past.
Throughout the Art History and Arts, Media & Society programs, various professors have shared interesting theoretical knowledge about the efforts in the decolonization of collections. When I started a joint Leiden, Erasmus, and TU Delft minor called Responsible Innovation, we were assigned a Student Project Group (SPG) titled Decolonizing the collections. Our group task for the upcoming half a year was to see how Science Center Delft (SCD) and Naturalis Biodiversity Center in Leiden could invite various discussions considering the colonial background of the minerals in their collection (Fig. 1). As the SCD collection was being transferred to Naturalis and documented in a different institution setting, there was a chance to reevaluate colonial ties the mineralogical collection has.
The SCD accumulated a mineralogical collection of around 4000 samples of various minerals collected in Suriname during the Dutch colonial reign. Photographs 1 and 2 (Fig 2, 3) were taken during The Gonini scientific expedition to Suriname in 1903-1904. These photographs provide visual evidence that even if the colonizers did not document the names of locals involved, they were part of the expedition and thus the context of the collection in question. For example, the Manchester museum used photographic documentation in a gallery display and online in 2020 as a call for action to decolonize their mineralogical collection and the museum at large. They showcased photographs illustrating the conditions in which Sierra Leone Diamonds were extracted during the British colonial rule.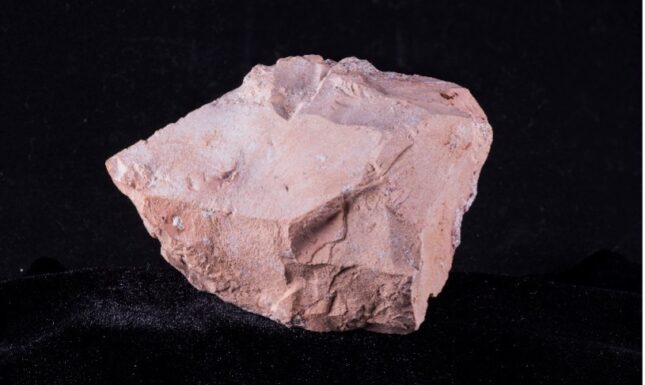 As professionals reassessed archived information about the collection in the transferring process to Naturalis, museum workers uncovered some new cultural layers. The person currently investigating the discussed mineralogical collection is Frances Versluis, a collection specialist at SCD. During the reassessment of the collection, the finding was that some of the distinctly shaped rocks were Indian stone axes (Fig. 4). The rock composition can indicate where the material was collected and help retrace some Indian travel routes in Suriname. This finding shows that culture and science are not separate domains and are constantly interlinked.
When the word restitution was mentioned in the student group meeting with the SCD director, the immediate response was that it is not an option. Even on a speculative level, what hinders this debate is the scientific knowledge minerals can carry for Western museums and universities' research and the conditions needed for the preservation not being met if the object were to be returned. Therefore, the cultural agency of the minerals in this conversation was pushed more or less to the background. We interviewed professionals like professor Alexander Dencher, a curator at Rijksmuseum, and Eulàlia Gassó Miracle, a collection specialist working at Naturalis responsible for the cultural heritage part of the collection. These talks provided insights into how the cultural layer of the mineralogical collection could be emphasized more.
Due to the project's time frame, our SPG group only managed to compose the virtual museum project requirements. In hopes that a digital representation of the artefacts charged with colonial background would advance the dialogue between the Dutch, Surinamese, and Indonesians, among other public. Our group thought that if there were an option for open contribution from the public, even more colonial layers surrounding the collection would be brought to light. We were building our work on the ideas by Professor James Clifford about museums as 'contact zones' between different cultures. That museum exhibitions facilitate diverse groups to start and continue various discussions. Texts commenting on Clifford's thoughts also emphasize that contrasting views about the same exhibition piece are not inherently harmful and can be very productive in future developments.
In conclusion, there are many different paths that knowledge institutions can take in decolonizing efforts. Still, museums and the public should not expect decolonization efforts to have a clear, definite result. Decolonization is an ongoing process with perhaps no clear end of a wholly decolonized collection or institution. For the time being, as a starting point, it is significant to establish that objects are never culturally neutral, even if Natural History Museums frame or had framed them as such.
Sources:
Gelsthorpe, D. (2021). Decolonising Manchester Museum's mineral collection – a call to action. Journal of Natural Science Collections, Volume 9, 12 - 28. URL: http://www.natsca.org/article/2682
& https://www.youtube.com/watch?v=8lUmIhhH_uI
Srinivasan, Ramesh, Katherine M Becvar, Robin Boast, and Jim Enote. "Diverse Knowledges and Contact Zones Within the Digital Museum." Science, Technology, & Human Values 35, no. 5 (2010): 735–68. https://doi.org/10.1177/016224... expedition pictures https://geheugen.delpher.nl/en/geheugen/view?coll=ngvn&maxperpage=36&page=2&query=Gonini-expeditie&identifier=VKM01%3AA116-46&resultsidentifier=VKM01%3AA116-201
Aleksa Jasiulionytė is finishing her third year of Arts, Media & Society and follows the HumanitiesLab track of the Honours Academy. Her interests are contemporary art, decolonization, Lithuanian art and design, posthumanism, post-Soviet heritage, and the impact of datafication on society.