Mummies at the kitchen table: The Rijksmuseum van Oudheden (RMO) in Leiden a year into the COVID-19 pandemic
What has changed behind the closed doors of a museum during the past year due to the pandemic? We discuss this question with Lara Weiss and Daniel Soliman, who, since 2014 and 2019 respectively, work as curators of the Egyptian collection of the RMO in Leiden.
Start of the pandemic
Just as for us all, the lockdown came very unexpectedly for the museum.
Soliman: I still remember when we heard from our colleagues at the Museo Egizio in Turin, that region was hit quite bad. That museum closed and that was horrible, but we didn't think too much about what this could mean for us. This only happened later, when the first infections were announced in the Netherlands and we heard that we had to close. I still remember that just a week before we were working at the office, it was really busy and new exhibitions were opening. Only they didn't open and everything kind of stopped suddenly.
Weiss: It was a real anticlimax. I think no one really imagined that the out-of-office notification of Turin could very soon become a reality for us as well. We were perhaps lucky with the Saqqara exhibition [Saqqara: Living in a City of the Dead, ed.]. Normally the spring exhibitions at the RMO open at the end of March, but we planned it earlier because we would go to Egypt for our annual excavations. This was a blessing in disguise because on Monday the 9th of March 2020 the exhibition opened to the public and people could see it, while the next Friday everything closed again.
Public function
Due to the shift to online services, the museum had to find new ways to reach the public and fulfill the educative role of the museum.
Soliman: Of course, you still try as much as possible to reach the public, share a presentation and continue research. You want to continue the dialogue with the public, which in certain respects may have even improved now. During the past months, the museum organized a lot of talks, about particular objects or the collection as a whole. These presentations are done online, which makes it possible to share them more widely. Before maybe 70 people came to the temple hall, while now we often reach more than 1000 people. The chat function allows people to ask questions. We also record short videos about the collection and post them on social media, that way we use the objects very directly and people ask questions that they probably would not ask otherwise.
Weiss: I think the museum really got a boost in regard to digitalization and online offers during the pandemic. In my opinion, this is one of the positive things the COVID-19 pandemic achieved. After a talk the other day I received many e-mails from the viewers. Normally people also ask questions, but it is perhaps even easier to do this online. I think the public function of the museum didn't change, but we now use different ways to reach an audience. I think this is something that will stay, because it has such a positive resonance. Now of course we don't have a choice, but we will continue to do both.
Soliman: Education is also an important task of the museum and that continues. For primary education, the museum found a great solution. Someone in the education department walks past the displays with a webcam, while school classes can ask live questions. We also try to continue with university lectures, although a lot of coordination and organization is required, it is important. We have a lot of plans for talks and symposia and digital solutions will remain important formats. We are thinking of a hybrid form, in which you speak directly to an audience in the hall, but also include people from abroad through an online connection. We now got used to formats like this and that is one of the gains of the past period.
Exhibitions: shifting elements
The museum works with a five-year plan for the organization of exhibitions. Therefore, this period asks for extra flexibility and planning.
Weiss: Every year we organize different types of exhibitions and with every type comes a different budget and plan of work. For a bigger exhibition, we usually schedule two years to prepare, for smaller ones about a year. After finishing the storyline and the first selection of objects, a designer joins the team to decide how the exhibition should look like. Therefore, it requires a lot of time to prepare, an exhibition is more than a story and the choice of objects. We have a five-year plan with summer and winter exhibitions and try to balance those between the different curatorial departments (i.e. not only Egypt, but also the Dutch Prehistory to Middle Ages, Classics, and the Near East). Also, we hope to attract as many visitors as possible. COVID-19 makes any planning is difficult since we cannot travel and many exhibitions have loans from abroad. These objects don't travel alone, but with a courier. When one exhibition moves all the others move with it and we have to change loan agreements and our schedule. So, while we have a five-year schedule at the moment, we do not know if we will be able to stick to it.
Soliman: It is a period of uncertainty. Each country has a different Covid situation with different measures, so a courier from one particular country may be able to travel to Leiden, while others are not. If we can't ensure the loans for an exhibition, we can decide to move the show, but then the entire planning needs to be changed and other things on the timeline need to move too, backward or forwards. So, we have to take a lot of shifting elements into account and be very flexible. It is a waste when you have to shorten an exhibition that required lots of investments to prepare, so you want to prolong it or move it up. Cancellations are not just complex, but mostly a waste of work and financial means.
Weiss: We moved many exhibitions but did not yet cancel. That is a decision the director of the RMO, Wim Weijland, makes together with his management team. Of course, it is important that when you organize an expensive blockbuster exhibition, you welcome enough visitors to refinance it. The fact is, that a large part of our income depends on the number of visitors that enter the museum. At the moment we continue to install our exhibitions, regardless of when we can open. We still organize exhibitions and they are also put on display, leaving the question of whether we will be allowed to re-open the museum. If re-opening will not be possible, we will find a way to show it online. You have to keep going.
Soliman: We recorded YouTube videos of a few exhibitions that were on display for a shorter time than originally planned. It is also possible to visit the museum through Google Street View. Lastly, we make digital pop-up exhibitions: a small selection of objects illustrated with photos and short texts. It is a nice format, although the experience and content are of course always different from a full exhibition. However, it also provides some freedom, because curators can pick a subject they want to write about and put it on full display. The format is perfect for really interesting topics that are not big enough for a whole exhibition in the museum halls.
Behind the scenes
The pandemic did not only affect the museum as a whole, but also influenced the daily work of the curators and their colleagues.
Weiss: I think we entered the lockdown well prepared, because our workplace and database were already digitally available, and we were used to working remotely. We now follow the rule 'work from home as much as possible, although some activities cannot be done from home, such as restoring a coffin or scanning papyri. You have to do that on location in the RMO. If you ask what changed for me personally, I think I work less with the collection, because I can only enter my office once per week and have to coordinate with my colleagues. Working with objects takes a lot of time because you have to take objects from the depot and return them. However, I do more research than before, because I have more time for that. Sometimes research and exhibition preparations also come together, because you can use what you prepare also for your own research.
Soliman: I am doing extensive research in preparation for an exhibition, but apart from that I currently mostly research specific objects. I think we mostly spend more time writing, also for a broader audience, for instance for the website or a magazine article. As Lara said, at the moment it is hard to work with the collections. However, when we make a pop-up exhibition, we also work with the collections in a way. We incorporate the texts we write into the collection database. Sadly, our excavations in Saqqara could not continue last year, but we still have to study material from earlier seasons. Finally, because we went into a calmer period, we had more time to reconsider our policies. It was a time of contemplation for everyone, also for us in the museum.
Weiss: This year's conference of CIPEC [the Egyptological committee of ICOM, ed.] was devoted to discussing how different museums handle the situation. Of course, it is nice that the video conference format allows us easy access to lectures abroad, such as an American seminar. On the other hand, especially for young people, it is also very important to build a network. I think this is much harder online, as normally you would just approach someone during the coffee break. However, online work meetings go well and are also beneficial to the environment, so it would be ideal to have a combination in the future.
Right to exist
The ongoing uncertainty about when to reopen weighs really heavy on both the museum and its audience.
Weiss: I was very disappointed that the government recently did not say a word about the so-called 'doorstroomlocaties' [places where people walk around, such as museums and zoos, ed.]. I understand they don't want people to gather, but on the other hand, I think a museum is able to regulate the flow of visitors, without them meeting each other. A lot of people lack entertainment during this period and a museum could be a reasonably safe way to obtain that.
Soliman: Technically, museums are perfect places to reopen, because you can regulate the number of people entering very well. Of course, as the government points out, people still have to travel to come to the museum. We all understand you have to close some places, but I think that museums are a very accessible thing that is now cut out of people's lives. Just think back to last summer, when museums reopened for a while. The museums totally flourished, people wanted to go out and museums proved a good option. The RMO really reached full capacity in terms of the number of visitors allowed in this period. This shows that people still need our museum and it demonstrates its right to exist.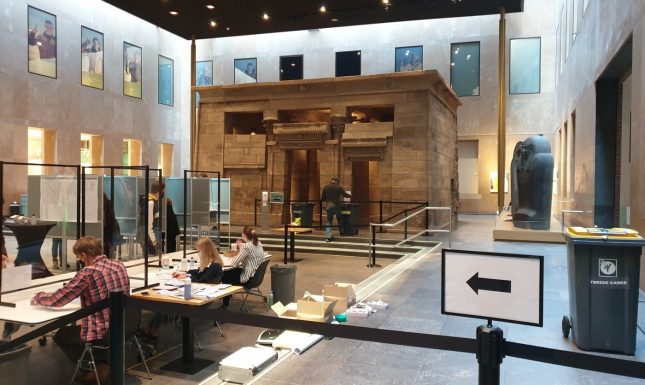 Pop-up exhibitions, online tours, and mini-lectures can be found on the website rmo.nl/thuis. The museum regularly organizes free talks online.
May 27th Egyptologist Lara Weiss & Archeologist Annemarieke Willemsen will speak at the student-organized symposium on Human remains in museum collections: Conservation, Ethics & Restitution. Program & registration
Lotje Dalmijn is a second-year student of Art History and a third-year student of Egyptology at Leiden University. Her main fields of interest are 17th-18th century paintings, particularly Italianistic and Early-Romantic, and the interiors of historic country houses. Contact: c.a.m.dalmijn@umail.leidenuniv.nl.