Who learns from whom?
OGJG is a foundation where students can volunteer to present their study subjects to the elderly through interactive lectures. It is a great opportunity for anyone interested in improving their presentation skills and making a positive contribution to the lives of the local elderly.
GJG (Oud Geleerd Jong Gedaan) was founded by Enny van Arkel and Ilse Nieuwland in 2014. These two women were both working in the field of elderly care when they noticed a great lack of intellectual stimulation among the people in their care. There were all kinds of different activities to entertain those living in retirement homes, but none of them provided the residents with new knowledge on more challenging topics. They came up with the idea to match students with elderly, both groups willing to learn new skills and information. They saw it as an ideal opportunity to connect generations and create a situation where they could learn from each other. Since then, OGJG has been brightening and enlightening the days of the elderly by bringing them in contact with enthusiastic students, while students improved their presentation skills. A win-win situation.
After finding OGJG on the facebook page of Art History Leiden, I applied and since the beginning of 2020 I have been volunteering at OGJG. Since then, I have been given the opportunity to give four lecture series (going on five!), one lecture on TV and a lecture series as part of a summer school which combined primary school pupils with their elderly neighbours. The beauty of volunteering at OGJG lies in the opportunity it hands you to meet and learn from people with a broad life experience, who you might not meet in your regular life as a student.
My favourite memory of a lecture series is of a group struggling with the early symptoms of dementia. Every class I had to introduce myself again, since not everyone could remember the class from the week before. But although their short term memory was declining, their long term memory proved to still function quite well. A lot of memories were triggered by showing them famous paintings, which resulted in them telling beautifully vivid stories of them visiting museums, the jobs they had as teachers and the way their parents collected art. Just by showing them the paintings they used to be so fond of their memories were activated, this showed me a new layer to the way paintings play a role in our lives. These elderly students might normally not be seen as intelligent, or might be disregarded due to their declining physical state, yet they were able to teach me. I have learned to take pride in telling about the things that interest me, to have confidence in my own knowledge and to always try to keep learning, no matter your age.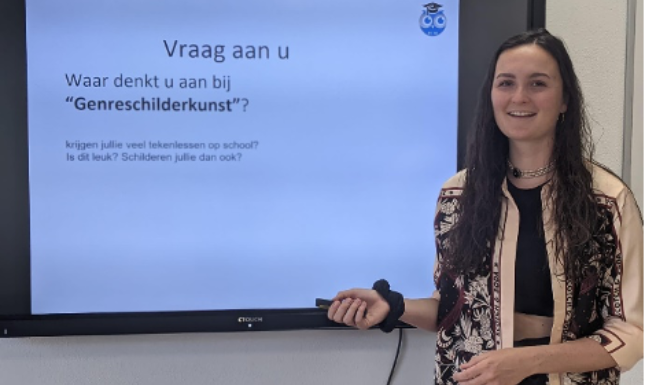 Could the OGJG concept also be something for you? Why not try it for yourself? There is a lot of interest in art history and the effect that showing paintings can have can be very special. I will assure you it will result in better skills and fond memories! To learn more, visit the website.
Rosella Twisk is a third-year Art History and Public Administration student at Leiden University. She volunteers as a lecturer at OGJG and and is interested in Art Philosophy, early modern art and more particularly seventeenth-century Dutch art/