Interning at the Rijksmuseum
Leiden student Judith Leferink recounts her experience as a undergraduate student and the first weeks of her internship in the decorative arts department of the Rijksmuseum, Amsterdam.
My name is Judith Leferink (21) and last year I completed my Bachelor's degree in Art History at Leiden University. During my studies I was able to broaden my interests in art, culture, history, and politics due to the variety of courses on offer at Leiden. In the last year of my undergraduate degree, I followed a seminar on local Leiden artists active before 1575 and chose to focus on a floor tile from the collection of Museum De Lakenhal. When you dive into the history of an object and discover where it has been, who bought it or crafted it, then the object truly comes alive. This is what makes the decorative arts such an interesting part of art history for me. The decorative arts are about people, their tastes and the society that produces these objects, and there are often interesting links to be made to politics as well.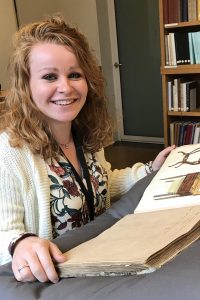 The seminar about Leiden artists lead to an internship with the regional heritage organisation, Erfgoed Leiden en Omstreken, where I was able to research and archive the collection of historical wallpapers. Researching seventeenth-century and eighteenth-century domestic culture changed my perspective of the city. Who lived in this building? What did the interiors look like? What kind of wallpaper graced the walls of these canal houses? These kinds of questions are now on my mind as I stroll through the streets of Leiden!
I am able to pursue my interests in domestic culture and historic interiors during my current internship in the department of decorative arts at the Rijksmuseum in Amsterdam. One of the objects I am currently researching is a nineteenth-century album from Paris that contains furniture drawings. The album contains a wide variety of different designs that range from bidets to music stands and prie-dieu (small desks intended for prayer). The origins of this album are still unclear but the function of these kinds of drawings was probably similar to a modern catalogue. In any case, the album gives a fascinating and rare insight in the world of nineteenth-century furniture makers in Paris. I hope my research will contribute to a deeper understanding of the ways in which nineteenth-century decorative arts are understood and studied, especially since there are many great objects on display in the Rijksmuseum galleries!