VAN EYCK 2020: OMG! I was there.
A student recounts his visit to the Jan van Eyck-exhibition in Ghent, organised in honour of the Van Eyck Year 2020. The largest exhibition ever about the most famous and mysterious Early Netherlandish master!
It was a rainy and grey day in Ghent. As I was walking along the Leie, passing Mediaeval houses and seeing Gothic churches in every direction, I couldn't imagine a better setting to celebrate Jan van Eyck, the most illustrious of Early Netherlandish artists. The exhibition, Van Eyck. An Optical Revolution, is held at the Museum of Fine Arts, where my first stop was the gift shop, which sold many Van Eyck-themed products such as exhibition catalogues, bags, and even a Van Eyck-themed comic book.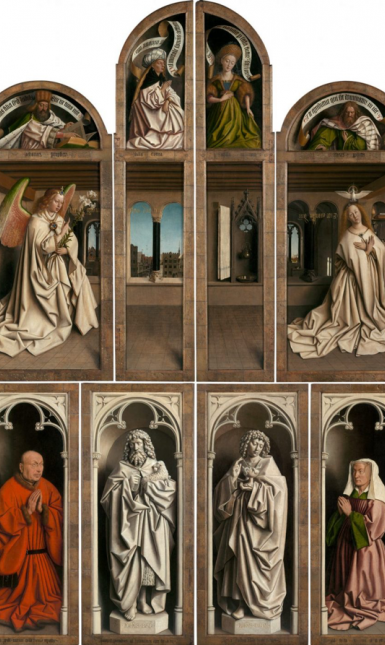 The exhibition centres around the recently magnificently restored outer panels of the Ghent Altarpiece (Figure 1), painted by the Van Eyck-brothers, Hubert and Jan. Before you enter, you receive a chronological overview of Jan van Eyck's life: starting at his birth, possibly in Maaseik around 1390, to his death in Bruges in 1441. Very little is known about Jan, however, not even what he looked like, although it is widely assumed that his Portrait of a Man from 1433 (Figure 2) is a self-portrait. Besides Van Eyck's works, the exhibition consists of many wonderful tapestries, miniatures, sculptures, drawings, and pictures by contemporaries, such as Fra Angelico and Masaccio. In the first gallery are several archival documents, such as one signed by Philip the Good Duke of Burgundy (1396-1467), Van Eyck's most important patron. Most of the galleries' walls throughout the exhibition were – funnily enough – burgundy red, and dark blue.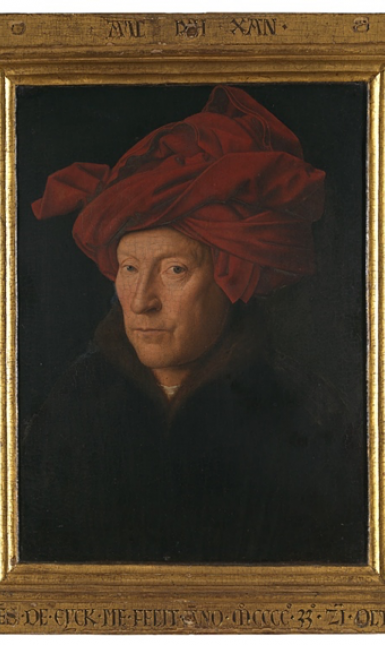 The work I found most beautiful was Van Eyck's Saint Barbara of Nicomedia from 1437 (Figure 3), recognisable by the three-windowed tower, and the palm leaf. Not only the beauty of this work is of interest, as scholars are still debating whether it is an underdrawing or finished product.
In 1953, Erwin Panofsky (1892-1968) wrote that he thought that we shouldn't expect to see underdrawings underneath Van Eyck's paintings that would be as detailed as the depicted scene(s). Panofsky's argument was made before infrared methods were developed and applied in the study of paintings. Later studies using infrared techniques discovered that many of Van Eyck's paintings do in fact have detailed underdrawings, such as his Annunciation from circa 1434-1436 (Figures 5 & 6). Panofsky does make an insightful remark concerning the signature of Van Eyck. Saint Barbara is in an original frame, signed "Jan van Eyck made me". Why frame and sign an unfinished work? Or could it be that Van Eyck made the underdrawing, and someone from his workshop was to finish it?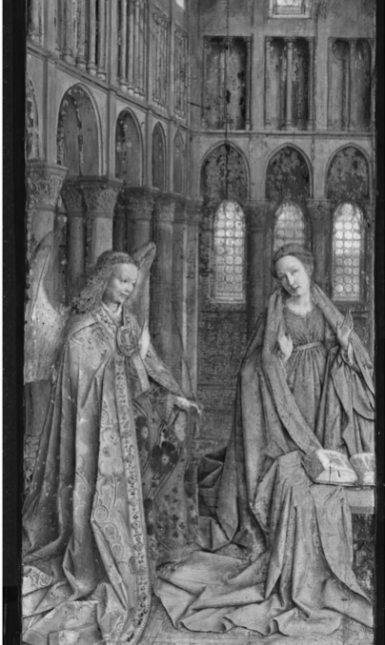 Panofsky points out that the signature differs from others by Van Eyck, especially Madonna at the Fountain from 1439 (Figure 7). That frame bears an inscription that translates along the lines of 'as well as I can'. A line Van Eyck often used in signing his work. The interesting part, however, lies in the second inscription in that frame, because that translates to 'Jan van Eyck made and completed me'. As the latter is not made explicit in the inscription of Saint Barbara, could it be that Van Eyck indeed never finished it? And yet, looking at the qualities of Saint Barbara, it does seem like a finished product. However, considering the provided arguments as well as the time and age in which it was made, it seems unlikely. It will remain one of Van Eyck's many mysteries.
If you do get the chance to see the exhibition when the museum hopes to open again after the 19th of April, don't walk, run!
For more information about the Van Eyck exhibition in Ghent, see https://vaneyck2020.be/en/.
Also, on Wednesday 8th of April at 19h00 (local time) the co-curator of the exhibition, Till-Holger Borchert, will give a virtual tour. Accessible via the Facebook-page of Flemish Masters 2018-2020, https://www.facebook.com/flemishmasters. They will post their tour on their Facebook and YouTube page afterwards. For more information about the Van Eyck Year 2020, see https://visit.gent.be/en/omg-van-eyck-was-here.
Recommended bibliography:
Born, A. Martens, M.P.J. Van Eyck in Detail. Brussels: Ludion Publishers, 2012.
Friedländer, M. Die altniederländische Malerei. Leyden: Slijthoff, 1924-1937.
Martens, M.P.J., Borchert, T.H., Dumolyn, J. (editors). Van Eyck: An Optical Revolution. Veurne: Uitgeverij Kannibaal, 2020.
Panofsky, E. Early Netherlandish Painting. Cambridge, Mass.: Harvard University Press, 1953.
Justus F.C. Schokkenbroek is a first-year student of Art History at Leiden University. His main fields of interest are Early Netherlandish Paintings, Late Mediaeval arts and architecture, as well as Asiatic arts and cultures, particularly of South and Southeast Asia. Contact: j.f.c.schokkenbroek@umail.leidenuniv.nl.